In this webinar we welcomed Mercer's Global Automation Leader, Kieran Gilmurray who will reveal how he is planning to address accelerated digitisation in the Commercial Insurance Industry.  He joined Mike Hobday, Chief Revenue Officer at AntWorks a pioneer in Cognitive Machine Reading and Intelligent Automation.
Key learnings:  
Placing unstructured data ingestion at the heart of digital strategy
AI as a major role to play in extending the reach of RPA
The scope of processes available for Intelligent Automation just got a whole lot bigger
Watch this engaging discussion and discover how Global Insurer MMC Group is pivoting to Plan D, Digital.
Kieran Gilmurray,
Global Automation Leader,
Mercer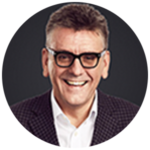 Mike Hobday,
Chief Executive Officer (CEO),
AntWorks