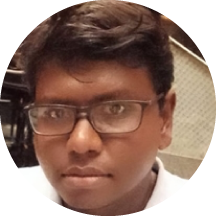 Dennisrajan Nirmalan
Senior Test Engineer
Dennisrajan Nirmalan
Dennis studied computer science before taking an MBA from the University of Madras. His career began in data outsourcing before joining a company acquired by AntWorks in 2016 and has won promotion. "AntWorks has been a big opportunity because we have many products and many projects are coming in the pipeline. My managers and my colleagues and friendly and supportive and we learn a lot from each other."
Dennisrajan Nirmalan is a senior test engineer with AntWorks. He grew up in Chennai in south west India where he studied at St Paul's Matriculation School, took a bachelors in computer science at St Joseph's College and then took an MBA at the University of Madras.
His first job after university was working for a US-based company that operated an outsourcing model providing information on the real estate sector.
From there he went to Maples Imaging Solution, a Chennai based business that developed content-based, object-retrieval technology. It was acquired by AntWorks in 2016 and he joined as a test engineer.
"We basically get set products by the developers and we test them to make sure there are no bugs or errors and if it's all good we pass it to the client," Dennis says. "It's a quality assurance process."
Dennis likes his role. He's a problem solver and, as it supplies him with a constant stream of challenges, he finds it stimulating. He's had a chance to get involved with all the company's products including CMR+, AntWorks RPA and AntWorks Process Discovery so he finds the work varied as well.
"AntWorks has been a big opportunity because we have many products and many projects are coming in the pipeline," says Dennis. "My managers and my colleagues are friendly and supportive and we learn a lot from each other."
"For anyone looking for a career I'd recommend AntWorks as somewhere you can gain skills and experience in a good working environment."
Dennis was promoted to senior test engineer in 2021 and is enjoying the additional responsibility. However, work isn't everything. He still gets plenty of time to spend with his family and to relax with a good book, watch a movie or follow the cricket.