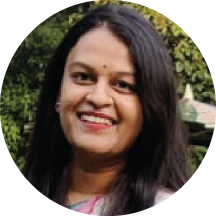 Akanksha Bajaj
Analyst/Project Manager
Akanksha Bajaj
Akanksha Bajaj is an Analyst/Project Manager based in Bengaluru. She grew up in Katni in Madhya Pradesh, her ambitions to become an engineer blossomed early, encouraged by her father who dreamed of her going to university. She studied for her first degree, a B.Tech in computer engineering, in Jaipur. There, as a member of the new university's first intake, she found herself setting up and organising societies and events and encouraging others to join in. That sparked an interest in management.
After graduating, she joined the international consultancy Accenture spending three months in Chennai training before working on a project in Delhi. However, Akanksha realised that she favoured project management over the technical path appealed so she decided to pursue an MBA in Business Analysis at BML Munjal University in Delhi.
"An MBA certainly teaches you that you can work hard and, whatever the pressure, you can handle it," Akanksha says. But her studies led her to realise that there's no substitute for practical experience. "What I learned from books during my MBA was a fine introduction but quite theoretical. What I'm learning at AntWorks is very practical. I'm working with real people and completely anchored in the real challenges they face, and there's no substitute for that."
She joined AntWorks as an intern in December 2019 with the promise of a permanent position once she'd completed her internship. She completed her MBA three months later studying evenings and weekends. The offer of a paid role was a deciding factor as many of her MBA contemporaries were offered internships without the possibility of paid employment.
During her internship she shadowed AntWorks' implementation project for the leading US-based insurer, John Hancock.
Akanksha's first substantive position was as an associate project manager handling the UI/UX revamp for both AntWorks' process discovery and CMR+. She subsequently worked on projects for a shipping company and, most recently, for a bank.
"As a project manager I have to understand the technical aspects of projects even though I'm not a techie person, despite my computer science degree. A major factor is the way you communicate and document things. If your documentation is perfect and your communication goes around well, then half of your job is done."
It sounds easy but it isn't. "The biggest challenge is to manage the client's expectations while keeping your own team aligned as well. Quite often, when we start working, we'll explain that they can anticipate 'x' level of results, for instance in terms of accuracy. But it's often easily forgotten and expectations can inflate. So it's a case of reminding clients what we promised and reminding one's own team that we what we deliver has to at least equal and, ideally, exceed that. I'd rather have clients being realistic and then, when the project is done, be pleasantly surprised."
Akanksha thrives on the communication side of project management and wants to develop her skills further and gain additional professional qualifications. She feels she's found her ideal career. The fact that she was able to do so she attributes, at least in part, to AntWorks and the opportunities she's had to learn on the job.
"Accenture was a great place to start, but my two years here have been a much more intensive learning experience, simply because it's so hands on. I am getting to work on projects, big, big projects, and getting to handle things singlehandedly and communicate with clients on my own. That gives one a sense of responsibility."
"So, if you want to really learn things then you should start with a startup. Antworks gives me that opportunity."
But even though Akanksha is dedicated to her work she still makes plenty of time for herself. She loves cooking, which she says is a great stress reliever, and painting on canvas, which she says encourages her to look at things from all angles. She's also been a national-level pistol shooter. Don't mess with Akanksha!