Powerful, Cognitive RPA with Digital Workforce Management
Easy-to-use, scalable to meet your needs.
Manage, measure and maximise the productivity of your flexible digital workforce in real-time. AntWorks RPA is available standalone or ready integrated into CMR+.
Build intelligence into smart BOTs in a low-code/no-code environment.
Configure up to 50 cognitive BOTs and run them with minimal downtime.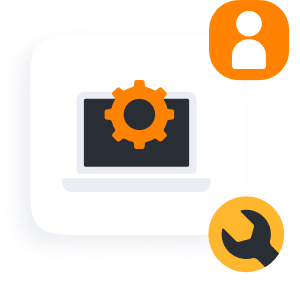 Multi-skilled BOTs in real time with minimal intervention for maximum productivity. 
Maximise productivity with BOTs that respond dynamically to changes in the operating environment.
Manage your BOTs proactively; assign specific processes or activities and reassign where most needed.
Auto failover management with pre-defined business continuity hardware designs.
Deploy BOTs to different environments for operational flexibility and efficiency.
Reduces testing time and lowers the total cost of development.
With availability- and message-based BOT triggers.
Business Continuity Planning
Mitigate risk through business continuity planning and failover management supported by smarter BOTs created and configured to deal with unknown exceptions.
AntWorks RPA's 'cognitive' BOT management tools allows you to build a robust digital workforce that knows when to start over again after hitting a problem and avoids significant downtime. BOTs are built for self-recovery in the event of infrastructure failures, ensuring business continuity.
Not Just a Point Solution
AntWorks RPA enterprise-scale automation is making a difference across industries including insurance, banking, healthcare and life sciences, telecommunications, transportation and logistics. When you build bots with AntWorks RPA you build a digital workforce tailored to the tasks you want to automate.